Educator Preparation Project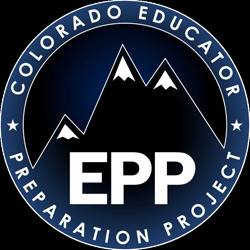 The Educator Preparation Project, made possible by a two-year grant from Rose Community Foundation, supports colleges, universities, districts and schools training educators across Colorado.
The goals of the project include working collaboratively with Colorado Department of Education as an educator preparation specialist supporting outreach and training opportunities on the new Colorado Academic Standards and the new Educator Effectiveness initiatives; launching pilot projects in higher education-based preparation and alternative preparation programs; and providing technical assistance focused on scaling up emerging best practices to support the alignment of all preparation programs to the new expectations outlined in S.B. 10-191 by 2015.
One of the greatest aspects of the Project is teaming across agencies (CDE and DHE) and units (specifically Educator Effectiveness, Standards and Instructional Support, and Office of Professional Services & Educator Licensing). This includes facilitating a monthly CDE/DHE Collaborative which has provided a great forum for us to leverage resources and support P20 initiatives in addition to working as a dynamic support agency.
University of Colorado Denver's Urban Community Teacher Education program and Stanley Teacher Prep are working collaboratively with Colorado Department of Higher Education and Colorado Department of Education to identify a strategic and effective process for embedding Colorado's education initiatives into educator preparation programs and to disseminate lessons learned to support the success of educator preparation programs across the state and nation. Specifically, the Project focuses on Colorado Academic Standards, including the embedded 21st century skills in all ten content areas (Colorado Achievement Plan for Kids, or CAP4K, S.B. 08-212) and educator quality standards and measures of student learning (Great Teachers and Leaders Act, S.B. 10-191).

Updates are featured in the EdPrep project E-Newsletter. To subscribe, please contact Jennifer Arzberger @ Jennifer.Arzberger@dhe.state.co.us.
Join Colorado's Educator Preparation Project for our Spring Webinar Series
Many of our spring webinars will feature an international audience, providing opportunities for increased collaboration and shared learning! Space is limited to the first 100 who register. All webinars will be recorded and posted on the DHE Educator Preparation Project webpage. Please register here:
http://connect.enetcolorado.org:4503/content/connect/c1/7/en/events/catalog.html
Jenny Arzberger's daughter Gigi blows a kiss.
This Spring's topics include:

Colorado READ Act: Update and Approved Assessments
ICAP Demo: Developing a Personalized Pathway through High School and on to College and Career for Every Student in Colorado
Promoting ICAP Success Career Explorations: Cultivating Purpose, Passion, and Self-Awareness
Promoting Professional Skills and Habits of Mind
Colorado District Sample Curriculum Project
Teacher Leadership: Impact, Influence, and Outcomes
Teacher Quality Standards: Professional Practices ELEVATE  Inter-Rater Agreement Training System
State Model Evaluation System: Student Growth Using Measures of Student Learning to Promote Data and Assessment Literacy
Student Achievement and the Pursuit of Excellence: Dispositions of Success
Other events
Colorado's Inaugural Educator Preparation Faculty Summit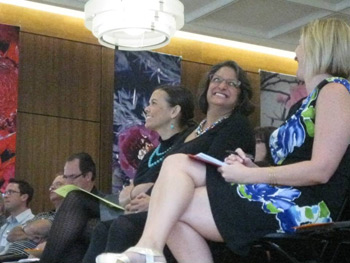 Jenny Arzberger, right, chatting with summit participants.
Sept. 27, 2013 | Regis University Clarke Hall | 3333 Regis Blvd. Denver
Objectives:
Provide an opportunity for statewide learning and collaboration to support Colorado's initiatives.
Gain innovative ideas and inspiration from leaders in the field of educator preparation.
Summit Resources
Special thanks to Eva and Sadie, student interns from Stanley British Primary and Rocky Mountain School of Expeditionary learning for capturing our day and creating the following movie: http://www.youtube.com/watch?v=4lbbWjzz-P0&feature=youtu.be:
CDE
Educator Effectiveness Fact Sheets: http://www.cde.state.co.us/communications/factsheetsandfaqs-educatoreffectiveness
Colorado Academic Standards: http://www.cde.state.co.us/standardsandinstruction/coloradostandards
Colorado District Sample Curriculum Project: http://www.cde.state.co.us/standardsandinstruction/samplecurriculumproject