Colleges & Universities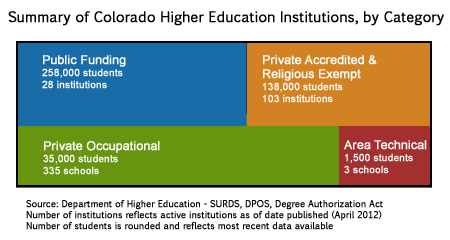 In the Colorado higher education system, there are over 470 institutions educating approximately 400,000 students. These include several types of institutions including publicly supported (made up of research universities, four-year state colleges, community colleges and local district colleges), private accredited (which includes for-profit, non-profit, and seminary), area technical, and private occupational institutions.
Directory of Colleges & Universities



Learn more about Private Occupational Schools at the DPOS website



Related Information

Reports required Adobe Reader. You may download it for free at Adobe.com.